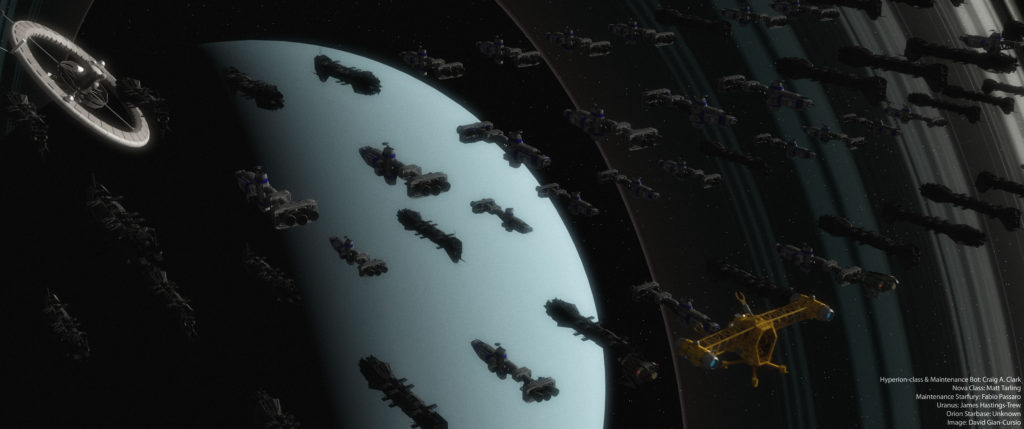 Boneyard! Is there any word more thrilling in the English language?
Years ago, I learned about the aircraft boneyard in the American southwest, outside Tucson, Arizona.1The article mentions the nearby Pima Air & Space Museum. If you're reading this on a Mac or iOS device, you may want to check it out with the Flyover feature in Apple Maps. I have it on good authority that that museum got a little extra love from an aeronautics fan on the team. Not long after that, the game Halo: Reach set its final level in a futuristic boneyard, with unsalvageable starships half-buried in rows along a barren desert. I like the way settings like that change the context of their subjects.
In this case, I went with a Babylon 5 take on the concept. The Earth Alliance, lacking the ability to easily land or launch mile-long spaceships, has taken a more economical view, setting up a salvage and shipbreaking operation in orbit around Uranus. Once the EA was sure that the Minbari War was really over and not merely a bizarre gambit or taunt by the enemy, the first step of rebuilding their fleet was figuring out how much of a fleet they had left. Dozens of cruisers and dreadnoughts, held together with bailing wire and happy thoughts during the final, desperate days of the war, were gone over by shipwrights, determining which ones had sustained irreparable damage to their spaceframes and needed to be scrapped, and which ones were sound enough to be rebuilt and refitted.