An effect I wanted to try out is something called a "split diopter," which is basically a sort of camera bifocal, for when you want two (or more) subjects at different distances to be in focus.
Robert Wise used it quite a bit on Star Trek: The Motion Picture, on account of the fact that the bridge set was somewhat cramped, and had to be lit fairly dimly so the computer screens wouldn't be overwhelmed. This required a wide aperture on the camera, which resulted in a very narrow depth-of-field.1For the later movies, they switched from projectors to TV monitors for the displays on the set, so they could light the scenes more brightly, allowing a narrower aperture and eliminating the issue.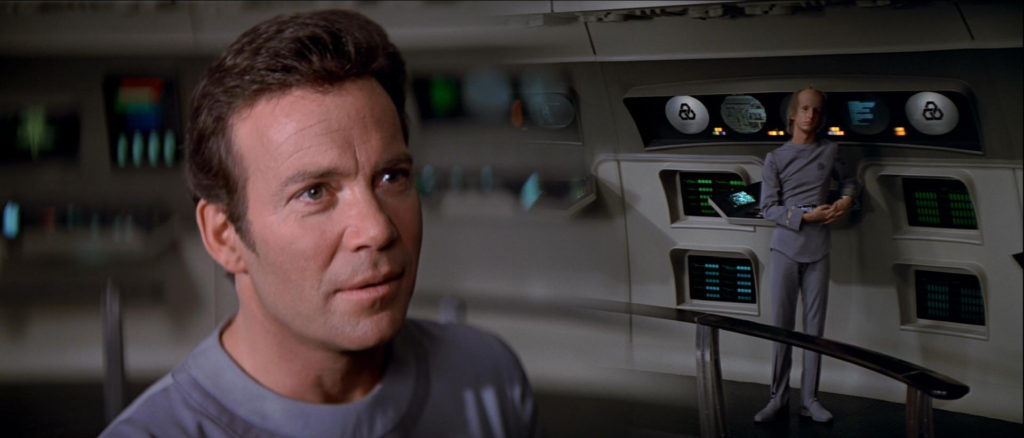 You can see in this screencap, the transitional area where the frame blends from foreground to background focus just past Kirk's shoulder.
Now, here are all the things wrong with today's image:
Spaceships are way too big to ever need a split diopter. You can't get close enough to have meaningful differences in focal length. Maybe if had an astronaut in a spacesuit in the foreground. And then only the astronaut's head. But that wouldn't matter because…
The scene is way too bright to ever need a split diopter. Even if these were very tiny spaceships, the brightness of the direct sunlight would require a very narrow aperture.
Drawing attention to the effect by having a very busy background in the form of the surface of the Earth, while intentional on my part to make the transition clear, would be a pretty unorthodox choice if I was using the technique in the real world.
The Enterprise needed more time to cook. There are global illumination artifacts all over, but I didn't have the time/compute power to run more GI passes. I was able to downplay some of them by pumping up the contrast and using liberal amounts of film grain, but they're still visible, especially on the starboard warp engine.
Out-of-focus content filmed through anamorphic lenses is distorted vertically. The method I used for creating the depth-of-field effect did not take that into account.
You can't really see it, but it turns out the procedural bump texture I added to Earth's clouds to provide additional detail looks nothing like clouds. The things you find out when you start working in 5K.
| | | |
| --- | --- | --- |
| 1. | ↑ | For the later movies, they switched from projectors to TV monitors for the displays on the set, so they could light the scenes more brightly, allowing a narrower aperture and eliminating the issue. |