Archive for the 'Graphic Design' Category
Recently, my friends Brandon and Dave (as well as their co-host Clay, who I haven't met but seems like a fine person) began a podcast, Observational, where they discuss documentaries "that are fun, crazy, or mind blowing." During the development process late last year, they asked me if I would create the album art for the show.
First, we brainstormed a few concepts which I sketched out on pen-and-paper (you can see how I sketch in earlier posts, so I don't feel like I need to subject you to that again). I then created three mock-ups in Photoshop, using the show's working title, "Cinéma Vérité," so we could get a sense of how the real thing might look.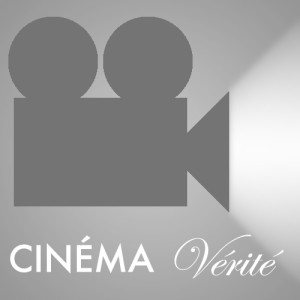 One used a simple film-camera icon with a light-beam coming out of it (which I realized while drawing it really made it more of a projector icon).
Another, my personal favorite, had a movie screen, with the word "Cinéma" floating in front of it, casting a shadow which formed the word "Vérité." I appreciated how the concept had levels, pointing out the illusion of cinema in the "This is Not a Pipe" sense, as well as more specifically how there is an inherent tension in the form of the documentary by using dramaturgical and storytelling devices (to different extent than written reporting) while presenting what may be taken to be an objective, factual account. The dichotomy between communicating truth through a medium consisting wholly of illusion is what I'm getting at, here.
If this concept went ahead, it was my intention to create it in 3D, so the lines of perspective and depth effects would match up more effectively than they do in this sketch.
I had another concept that drew on this idea, where a realistic silhouette of a bird in flight would be a shadow cast by a hand-puppet, but I couldn't think of a way to arrange this in a square still frame that could be seen in forms as small as a postage stamp. It'd be easy enough to communicate the concept in an animated form, so I guess I've come up with my production logo, assuming no one else uses the idea in the meantime. Or has used it already, for that matter.
The other alternative I offered was the title of the podcast on a film-strip background.
Just before presenting these, I was told the title of the podcast had been changed to "Observational," so my shadow-casting idea was out, as it required two words. Of the remaining choices, the film-strip concept was the winner, and we went through the normal process of revisions.

As you can see, after the rough size of the various elements was settled on, I moved to a more realistic design for the film strip for the production version, with properly-spaced sprockets and even a stereo soundtrack.
One thing I hadn't anticipated was that the icon might be shown tiled on top of itself in a podcast client. When I downloaded the multiple consecutive episodes in Overcast, I realized that was a greater oversight than I had thought.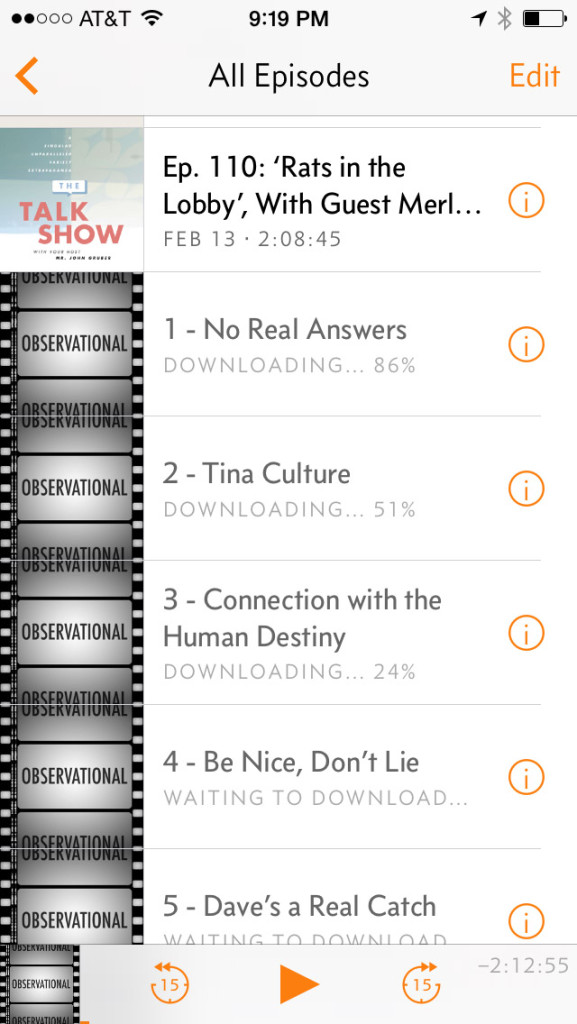 I went back to my laughably-named "Final" Photoshop file (one day, I'll learn to stop using that word) and began adjusting it with tiling in mind. I made the sprockets along the sides take up an even amount of the frame, and adjusted the "film cells" in the center so the preceding and succeeding frames would be cut off in their center. I also added an additional gradient layer to the top and bottom frames to darken them evenly along the edge.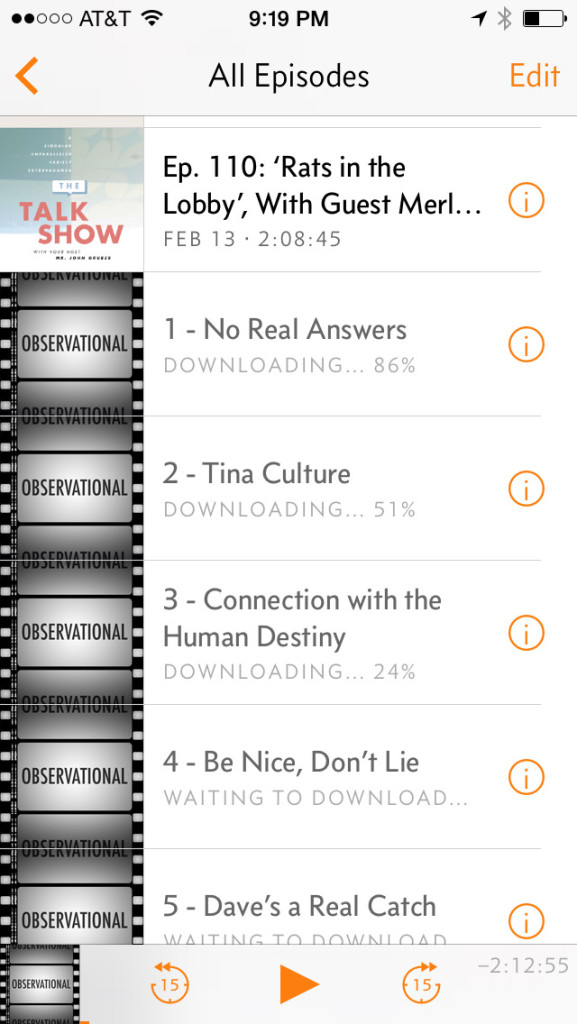 And here, at long last, is the fina— that is to say, most current version.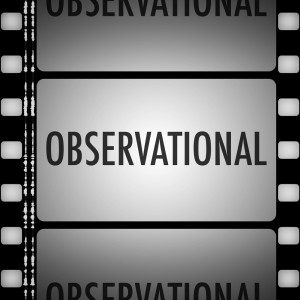 You can download Observational via iTunes, or wherever fine podcasts are available.
• March 3, 2015 •
Comments Off

on Observational Humor